02 Apr 2020
F1 is not necessarily the most attractive race on the planet (Part 1)
Formula 1 racing is world famous for having the fastest speed, the most expensive cost. But speed is not the deciding factor all. Many viewers complained that the F1 races were quite boring and uncompetitive, they wanted something new and more attractive. Therefore, there are many races launched to suit the tastes of each audience group.
Here is a list of the most attractive, popular car racing events in the world besides Formula 1 racing:
Isle of Man TT – Death race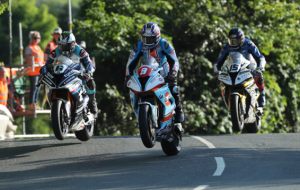 For motorbike lovers, this is a race not to be missed. Held annually on an island between England and Ireland, Isle of Man TT gives the audience unprecedented excitement that no race has ever achieved.
The riders will conquer the total length of 365 km with 6 laps around the island. The track has 264 turns and almost no protective barriers, many locations even have stone walls, extremely dangerous obstacles. The average speed of the riders always maintained at 200-300 km/h.
At the Isle of Man TT, superior technology is not enough, to win the race, it must be reckless, hard-fought. The famous MotoGP athlete Valentino Rossi also had to admit, "Compared to them (the riders in the Isle of Man TT), I'm just an apprentice child.
Due to the high level of adventure, Isle of Man TT is also famous for the "death race" because no year is no athlete killed. To date, the total number of deaths has reached 252. Even the onlookers are at risk of serious injury.
Paris Dakar Rally cross-country racing
The story begins in 1977, when the French driver Thierry Sabine was lost in the middle of the Tenere desert during a race from Abidjan to Nice. Immersed in the desert, he realized that the endless stretch of sandy beach would be an ideal place for amateur riders like him to be able to test endurance. When he returned, he devoted the rest of his life to his colleagues in building the Paris Dakar Rally race today.
The course starts from Paris – France and ends in Dakar – the capital of Senegal with a total length of about 10,000 km. At the sprint stage, the drivers have to cross 800 – 900 km of road a day in the harsh terrain of the desert. Many of them are just amateur racers and can't get to the finish line.
Since 2009, the race has been moved to Argentina and Chile for security reasons.